Luis Gutiérrez
UX Manager | Creative Director 
I like to tell stories through design... Stories that count and help others. I achieve this by leading teams of creative individuals that love to push boundaries, understand the sensibilities of design, and know the pain points and challenges that digital experiences present to users on a daily basis.
For nearly six years now, I've been part of the UX team at Bank of the West in San Francisco, California, where I've had the great opportunity to lead a multitude of projects and help build a team of 20-some hand-picked individuals – an effort that took about two years to complete. From serving two internal business partners back in 2013 to nearly the entire Bank of the West enterprise in 2017, and from being 100% outsourced to a 100% in-house entity, the Digital Channels UX team is now ready to enter their next level of maturity and test their vision for innovation and future state of design, aligned with the company's digital transformation. It's a thrilling success story.
"My Zone" Nowadays...
I've played with UX for some years now and I'm amazed at how much it has evolved in recent years. UX is no longer in isolation as an agent of change, fighting for coherent design solutions to, eventually, "delight" users. It is a discipline that is now part of a much more complex design process that requires close collaboration with and is largely dependent on many different stakeholders.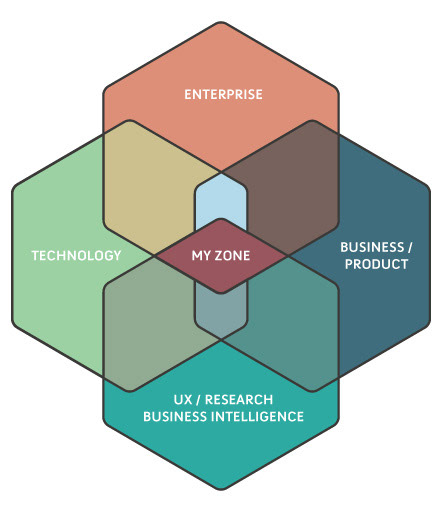 As technology, research and data gathering evolve and become more sophisticated, so has my role as a lead designer and mentor. I find myself less concerned with directing a team of designers and oversee timelines and deliveries, and more involved in maintaining good relations and channels of communication open with internal and external partners. It's good to see "fighting" transforming into "influencing" in a relatively short period of time.
No project is alike and there is no longer a cookie cutter approach to design. That's what makes my job interesting, the endless possibilities. In the
Case Studies
section, you'll find three samples of recent and very different design projects which help illustrate my approach to design.