Hello bank!
is a digital direct bank owned by BNP Paribas that started operations in 2013. With headquarters in Paris, France, the bank operates in various European markets. BNP Paribas has claimed that it is
"the first 100% digital mobile bank in Europe"
.
Create a Hello bank! multi-platform and ADA-compliant design system for the U.S. millennial and gen-X market, adapting global brand guidelines established by BNP Paribas, or creating new ones relevant to the target audience. 
Creative director and UX management lead.
Tap into the expertise, knowledge and talent of 15-to-20
UX designers, content strategists and researchers
at Bank of the West (project sponsor,) and establish efficient, harmonious and truly collaborative partnerships with stakeholders and vendors.
I. Use HB European brand guidelines and style guides as baseline
•   Potential limitations on color, font and layout issues
•   Obvious audience differences
•   Different voice and tone

II. Design within a multi-tenancy structure: a love/hate relationship
•   Great limitations on design layout– one change would affect the backend of both Bank of the West and Hello bank! authenticated experience
•   Affects more than one digital platform
III. Inherent challenges of HTML and ADA
•   Brand fonts don't provide good readability within digital experiences,  so different ones need to be chosen
•   Color contrast in the original color palettes is not compliant with ADA standards
Design solutions must be created with a global approach to be able to accommodate all digital platforms and systems (.com, online banking, online account opening and mobile.)
Users should be able to experience familiarity with the look and feel, no matter which device they use to access their information.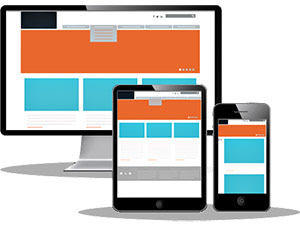 •   Responsive (Sales & Account Opening) / Tablet-centric (Online Banking)
•   Brand-oriented
•   Task-focused
•   Consistent
•   Simple & user friendly
•   Researched and tested
•   Current, in tune with latest design trends
•   Based on partnership & collaboration
•   Follow an Agile process methodology
Based on the brand material received from Europe and research done at Bank of the West in the U.S. with clients and prospects, create a conceptual design system and a prototype for desirability testing. The results will inform if the concept is viable for design direction.
•   Present HB customers with a consistent and intuitive experience across platforms
•   Champion HB brand positioning and clearly communicate value proposition to our customers
•   Design, manage and optimize the end-to-end user experience and build a design system to unify standards
•   Manage resources with internal UX team (FTEs and contractors)
•   Produce design system style guides for in-house and external developers
•   Achieve business results by customizing process to be lean and efficient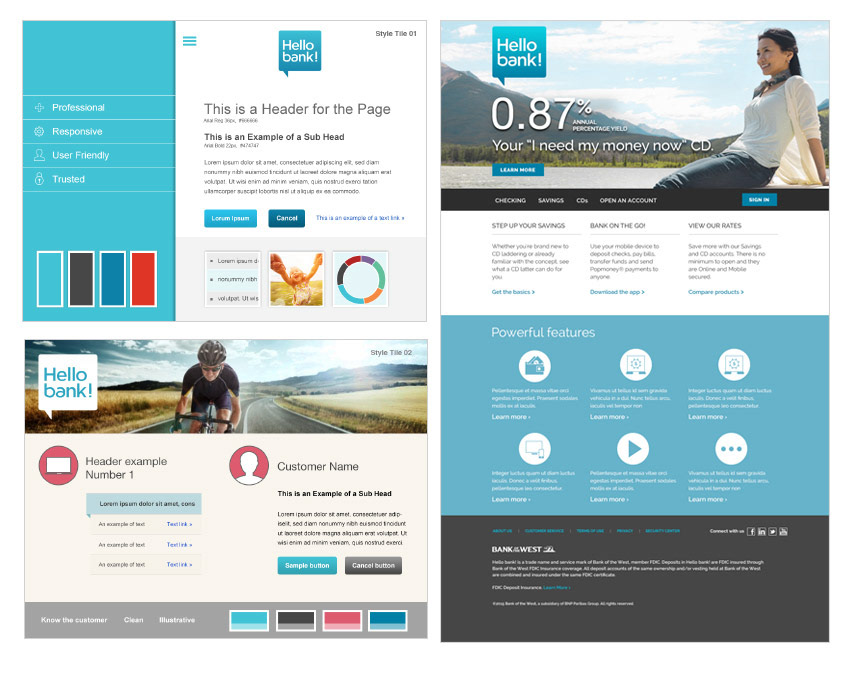 Content Strategy: Voice and Tone Guidelines
Our brand voice is how our personality comes to life.
Whenever possible, we use contractions, keep the "bank speak" to a minimum and keep our messages short, simple and to the point. The way we communicate as a brand is a direct reflection of our brand personality and the lives of our customers.
Smart, simple, straightforward
"Why Hello bank!? We're glad you asked. We treat our customers like very good friends. We know you want to bank like you live. We provide an easy and safe way to bank online and with mobile devices. You get the peace of mind knowing that your money is protected by FDIC insurance and robust security systems. Plus, there are no fees. It's that simple. We know that life won't wait, so we're providing the best banking experiences possible. Let's start making banking better."