The 
Takács Quartet
 is a world-renowned string quartet praised for the vitality of its interpretations. The
New York Times
 recently lauded the ensemble for "revealing the familiar as unfamiliar, making the most traditional of works feel radical once more", and the
Financial Times
described a recent concert at the Wigmore Hall: "Even in the most fiendish repertoire these players show no fear, injecting the music with a heady sense of freedom." Based in Boulder at the University of Colorado, the Takács Quartet performs eighty concerts a year worldwide.
Redesign a nine year-old, static website into a fully-responsive experience with CMS editing capabilities. Add features such as an interactive calendar of events and directional maps, as well as database-driven content to be automatically refreshed on the homepage for the most popular features, and provide solutions for unsupported plugins and extensions, Flash in particular.
Creative director and designer of UI and CMS backend.
•    Apply a contemporary look and feel, and dynamic content that is concise and user friendly
•    Improve SEO capabilities
•    Improve access to downloadable features such as pictures and bios
•    Tutor and challenge the client to become an accomplished CMS author/editor
•    Take advantage of readily available tools and extensions that can be incorporated into the backend of the CMS (calendars, image galleries, slideshows, locators, etc.)
Tackle design in phases, starting with CMS templates flexible enough to accommodate various types of information and page layouts: articles, components, categories, featured elements, extensions and plugins. Then, feed content and look-and-feel organically, adding and adjusting most elements of design via CSS. The Agile nature of the project will guide design as you go.
•    Fully responsive design
•    Simple & user friendly
•    Create a CMS backend sensitive to the needs of the client, i.e. client is neither a designer nor a developer; be strategic in selecting which sections of the site can or cannot be touched by the CMS authors
•     Design and content to be contemporary and dynamic – introduce a sense of movement to the experience (motion graphics, micro-interactions and the like)
•    Design process to be iterative as conceptual design phase is reduced to color palettes and fonts
•     Choose an online, database-driven, low-cost CMS platform robust enough to support full customization of UI and backend editing capabilities (Joomla, Drupal, WordPress)
•    Integrate analytics software to track SEO strategy and traffic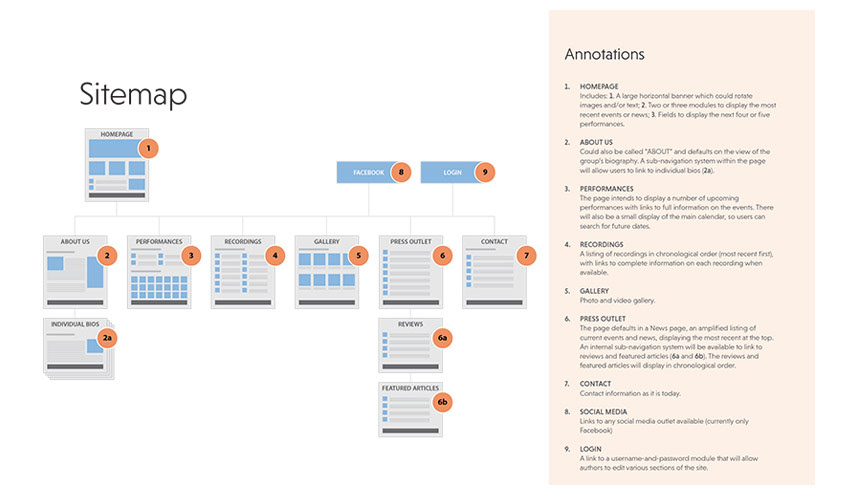 Most of the testing process will be based on browser performance – given the dynamic nature of content, the site should perform well in most popular browsers.
•    Create a website experience that better reflects the stature and reputation of this world-renowned music group
•    Provide client with site editing capabilities (add, delete, edit, feature)
•    Provide visitors with a pleasant, user-friendly experience that better reflects the stature and reputation of this world-renowned music group
•    Create a sitemap that helps reduce content and navigation options