Bank of the West is a regional financial services company, headquartered in San Francisco, California. It is a subsidiary of the French conglomerate BNP Paribas and has more than 600 branches and offices in the Midwest and Western United States. Its workforce nears 10,000 employees.
Redesign a total of four design systems present in the bank's public and authenticated environments within a timeframe of 12-to-18 months. The new systems should comply with ADA standards and adapt to the brand promise and look and feel.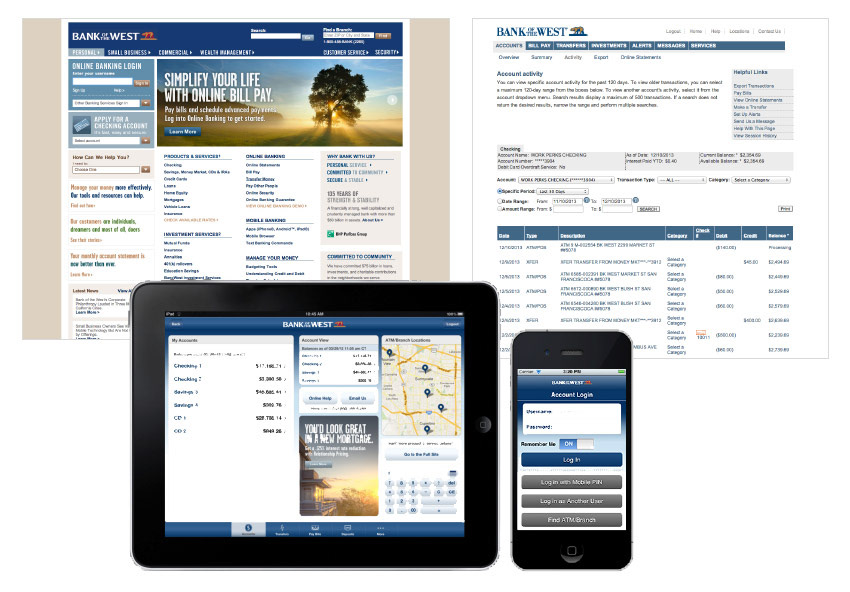 UX Manager and Design Lead. Maintain workload balances between small UX crew and vendors, i.e. design vs. consulting.
•    Hire a limited number of UX designers and content strategists to establish a new UX team for Bank of the West
•    Promote a collaborative design environment between in-house and outsourced individual contributors at design and development level
•    Develop a non-existent documentation system to include UX process, style guides, guidelines to vendors and outsourced contributors, and project deliverables
•   Socialize the work of the new UX design team to create momentum and pitch for future projects
•    Work with a hybrid team of in-house and outsourced designers and developers
•    Font and color palette restrictions (brand fonts present readability and accessibility issues, and color palette is not ADA compliant)
•   Good content strategy needs to be implemented to resolve real estate and scannability issues – a good example is the homepage which it is no more than a link farm
•  Potential clash between new trends in technology that cannot be implemented in outdated backend systems 
Tablet-centric
Large buttons, large pictures, and simplified menus for mobile, touch-screen viewing.
Simplicity
Simple, engaging designs that are intuitive and also easy to maintain and manage. Text is easy to read with proper spacing. Reduction is key (content, elements, styles, code).
Consistency
Deliver an experience that is consistent from page to page. Establish clear guidelines within the page, between pages, between sites; adapt to mobile and tablet. Minimize differences. Show flavor of BNPP without negatively impacting design.
Task-focused
Meet the user's needs and expectations by knowing them and prioritizing for them in the design. Have clear CTAs.
Iteration & testing
Experience designs in end-device states to assess and improve effectiveness early and continually in process.
Process-oriented
Build from the foundation first through solid process, analytics, and sound implementation.
•    Provide bank customers with consistent and intuitive experiences across digital channels & ATM — reinvent Bank of the West digital channels experience in online, mobile, tablet, social to enable business success
•    Champion the Bank of the West brand and Go West® positioning — clearly communicate the value proposition to customers
•    Create a global design system based on Brand guidelines and the latest Homepage redesign
•    Create templates for SiteCore CMS to accommodate all .COM pages
•    Design, manage and optimize the end-to-end user experience process
•    Increase customer delight moving customers from satisfied to loyal and then from loyal to advocate
•    Manage resources with internal UX team (FTEs and contractors) and agency support
•    Achieve business results by customizing process to be nimble
III. Tangible Deliverables
•    Interaction design wireframes
•    Visual design comps and specs (conceptual and final)
•    10-15 visual design templates with specs for CMS backend
•    Content docs
•    Comprehensible style guides for vendors, developers and new designers
•    Prototypes as needed
UX approaches public pages as an extension of the Homepage. With the task of redesigning the sites for Investment and Mobile services in 2013, UX had a great opportunity to create an entirely new visual design system that would serve as design basis for a thorough redesign of the BOTW website.